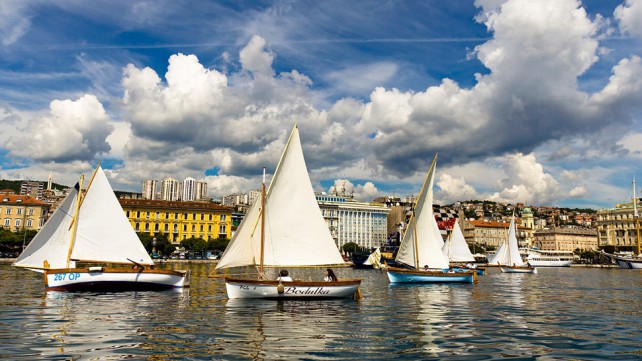 Rijeka is the principal seaport and the third-largest city in Croatia (after Zagreb and Split). It is located on Kvarner Bay, an inlet of the Adriatic Sea and has a population of 128,624 inhabitants (2011). In 2016, Rijeka was selected as the European Capital of Culture for 2020. Rijeka has warm summers and relatively mild and rainy winters. Because of its rich history and geographical position, many tourists come to the City of Rijeka. As a consequence of that, the city features a wide range of different types of accommodation. The most common type of accommodation are the hostels and hotels which are mainly situated in the centre of the city and all of them are near the main attractions, monuments, restaurants, bars and night clubs. We have selected for you a range of places to stay in Rijeka. Here you can find a list of websites:
Hotel Continental
Hotel Neboder
Hotel Jadran
Botel Marina
Hostel Kosy
Hostel Korzo
Hostel Kvarner
Hostel Rijeka
Hostel River
Hostel Carnevale
Hostel Ana
You can also find private accommodation on the Airbnb page
ACCOMMODATION ON CAMPUS IN 2-BED ROOMS FOR STUDENTS
If you are a student you can stay on Campus in the 2-bed room in the time period of July 6 – July 9, 2017.
– Campus "Trsat" (located near the Faculty of Humanities and Social Sciences, University of Rijeka): approximately 13,41 € (101,70 HRK) one night per student
– Campus "I. G. Kovačić" (located near the School of Medicine, University of Rijeka): approximately 10,51 € (79,10 HRK) one night per student
For reservation, please, contact stjepka.popovic@uniri.hr with details: name and last name, date of arrival and date of departure.
VENUE
How to reach the City of Rijeka from the main airport in Zagreb – the capital of Croatia?
It is recommended to use Zagreb airport which is located in the capital of Croatia. There are very good connections from all European airports with Zagreb airport by International companies and Croatian Airlines.
Bus transportation
Route: International airport Pleso (Zagreb) (after February 2017, the name of the International airport Pleso will be International airport Franjo Tuđman) -> Main bus station Žabica (Rijeka)
Departure (from Zagreb): every day at 3:30 p.m.
Return (from Rijeka): every day at 05:00 a.m. (from Jelacic Square, Rijeka)
Prices:
One – way ticket -> 150 kn (€ 20)
Two – way ticket -> 250 kn (€ 33)
Tickets can be purchased no later than 24 hours before the trip.
You can purchase your tickets via http://www.plesoprijevoz.hr/en
Shuttle transportation
If you need a transportation from the airport to anywhere in Croatia or if you want to get from your current location to your desired location anywhere in Croatia, you can contact the airport shuttle service via http://www.plesoprijevoz.hr/transfers and order your transportation.
Bus transportation, Main station in Zagreb
http://voznired.akz.hr/voznired.aspx?lang=en
Taxi transportation
Rijeka
Taxi Cammeo Rijeka +385 51 313 313
Radio taxi Rijeka +385 51 585 585
Zagreb
Eko taxi Zagreb +385 1 14 14
Taxi Cammeo Zagreb +385 1 12 12
Radio taxi Zagreb +385 1 17 17
If you are interested in visiting the Croatian coastline during the summer, read useful information at the Croatian official tourism site:
Useful information
http://www.croatia.hr/en-GB/Journey-through-Croatia/Useful-information
Trip ideas:
http://www.croatia.hr/en-GB/trip-ideas/Your-road-trip-sea